Back to all news
News of the World of Exhibitions
(2012-04-10)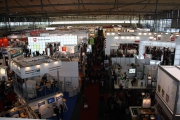 Exhibitions of achievements in various business areas are occurred all year-round. Soon it will be the exhibition of your specialization. Do not miss the exhibitions because there is not only showing and learning the competitors, but you can find new customers and business partners there...

We offer travel arrangements for the exhibition in Hanover and Kiev. Look through the calendar of exhibitions you can at the web-sites below.

Exhibitions in Hannover (Germany)

Exhibitions in Kiev (Ukraine)


With our help you will pay full attention to business communication and recreation. All organizational issues we will provide at a high level.

Why do people visit exhibitions?

As was mentioned above, visiting international exhibitions is first of all getting acquainted to new partners and studying your competitors.

However that is also a chance to bring your business to a new market, attract new customers and draw in new investors.

Why the exhibition in Germany?

Germany is a land of stability and punctuality, quality and a strong economy. European standards, the concentration of a large banking potential, an abundance of industrial corporations and efficient event budgeting brought the German economy to the highest developmental stage. Made in Germany turned into brand. That is why Germany has become the most relevant place for business trips and conclusion of various contracts and finding business partners - the progressive direction of the tourist industry. German exhibition also have a lot of weight in the world. Just to take into a consideration exhibition CeBit. Attendance of German exhibitions is probably the highest in the world, which also is in favor of making a business trip to Germany.

In case you want to become a participant of the exhibition:

You need to consider a number of aspects that can make your participation in an exhibition effective, especially if your organization is doing it for the first time.
Please select the exhibition first, which you want to take part in and ask the organizer to provide you with the statistics for the last show - it will help you to clear up some positions, such as the number of visitors, number of participants, etc. To clarify how useful it could be for you.
Carefully read the conditions of the participation. Pay special attention to the various technical aspects. Remember that a lack of thoughtfulness (ie lack of chairs or electrical outlets) can lead to serious disruptions during the exhibition.
During the preparation for the exhibition must be clearly understood that participation in the exhibition should be recouped through the agreements that could be concluded by your organization, not by selling pieces of any goods from the stand.
Pay due attention to the printed materials to be presented at your booth (business cards, brochures, flyers, etc.). All of this should be done at a high level printing, differ thoughtful presentation and readability. Scarce black-and-white promotional materials are capable of spoiling the view of you as a potential partner.
Recently, exhibitors offer visitors such promotional and informational materials as computer disks with information about the company, product, pricing, etc. Therefore it is desirable to prepare in advance these discs and burn the right amount of them.
You can prepare the presentation materials on the computer to show them on the stand during the exhibition. This would also be desirable to establish the stand one or more high-quality wide-screen displays.
Do not forget to prepare the German version of your web site. Note that the potential German partners after a conversation with you will most likely visit your web site to get more information about your organization.
People who work at the stand must be specially trained and instructed in accordance to the special characteristics of this particular exhibition. Each member of the team who is working on the stand, should know at least one foreign language (German or English).
The team that works at the exhibition, should have at least one special translator, who should be familiar with deep industrial (special) terminology (German or English), which exhibition is devoted to. It is inadmissible when the leader of the stand and potential German partners who visited the stand, have no possibility to specify technical or economic aspects because of the language barrier.
Samples not only should be represented on the stand but also occasionally accompanied by demonstration and comments of the experts. Statically standing samples with no specialists who could characterize them, can just stay out of the attention of potential partners. Sometimes it is desirable to supplement show pieces information boards with photos and descriptions in German.
Many German companies during the exhibitions are drawing prizes, lotteries or different similar mass events for visitors of their stand. That is not necessarily, however in case if your products are designed for the mass market, local advertising campaign during the exhibition sometimes extends the range of people familiar with your products, and attracts attention.
Consider possible ways to attract more visitors to your stand: it may be booklets distribution to visitors at the entrance or inside the exhibition hall or additional advertising panels, and others advertisements which do not contradict the rules of the exhibition.
Remember that booth is representation of your organization. The visitor should distinguish the design of corporate identity, visual and informative exposition, friendly and competent staff.

Exhibitions in Kyiv.

Ukraine is the largest country in Europe. Since gaining independence from the Soviet Union in 1991, Ukraine is going through hard times. Over the past 10 years Ukraine has made a fairly big leap in the production of metals and chemicals, agricultural and industrial techniques. That combines an interest to business partners and investors.



Kiev, the capital of Ukraine with a population over 4 million people, and it is constantly growing. Kiev is one of the most dynamically developing capitals. Both number of exhibition centers and exhibitions held worldwide grows every year. Kiev is a great place for cultural recreation and conference facilities.



Why participation in exhibitions in Kiev can benefit for you:



Ukraine is a dynamically developing country with great potential. Due to its geographical location, there is a large number of trade routes from Asia to Europe passing through Ukraine.



Kiev has always been an international city, with developed the system of exhibition centers, hotels and infrastructures in whole.

What should be considered when participating in/visiting the exhibitions in Kyiv:



Before you visit the exhibition, ask the organizer to provide you with complete information about this exhibition.

After that, spend a full training on their part.



If you are an exhibitor, you should take care of the booth and materials you submit. It is known that in each country mentality differs: in Germany people like precision and punctuality. In Ukraine they like the openness and clear examples. That is why it would nice to provide people with some layouts or small copies of your products.



You shouldn't also forget to take care of housing. It could be either hotel or private apartments and flats. It is a matter of taste, but as experience shows, apartments are much cheaper and more practical than a hotel room. It is also worth not to forget about transportation: Kiev city with well-developed public transport system, however sometimes it takes time to get from A to B. One option may be considered is a taxi, which costs an average of 5 to 25 euro per trip. The other one is rental of a car with a driver, which would cost 30-100 euros per day.



We wish you successful business contacts!