Back to all news
Agritechnica 2013
(2013-11-12)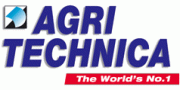 The world's greatest exhibition of the Agricultural Machinery Sector will take place from 12 to 16 November 2013 at Hannover Exhibition Grounds.
This is where innovations are launched, trends are set and visions are discussed: Next time on 12 to 16 November 2013, at the Exhibition Grounds in Hannover. Manufacturers present solutions with which farmers are able to work even more precise, more efficient and more ressource saving. Specialist areas will be electronics and sensor technology.

With 18 exhibition halls, over 320.000 square metres exhibition floor space and more than 2.300 exhibitors, Agritechnica is the world's largest trade fair for agricultural machinery and equipment. On 10 and 11 November, the exhibiton will be open exclusively for traders, specialist press and major customers.